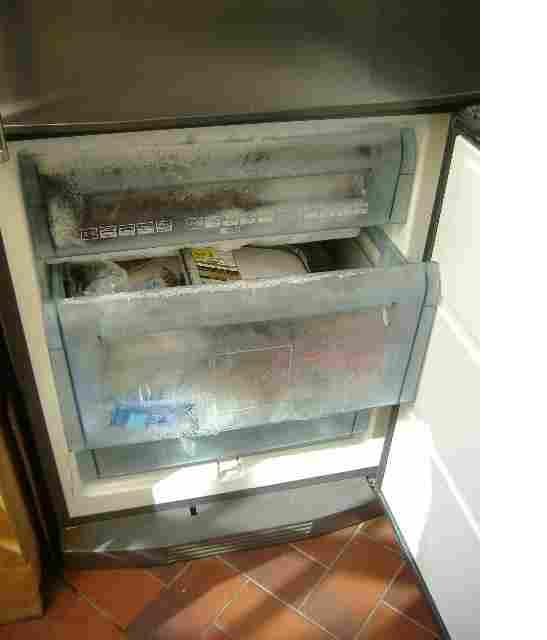 It's sometimes said that a full freezer uses less energy - not true. When the door is closed and the load is at the required temperature, all the refrigeration circuit is doing is removing heat that leaks into the compartment through the insulated walls. The freezer could be full or empty - the rate of heat transfer will be no different. It will only change if the room temperature changes. You can detect that it must be dubious advice because of what people suggest for filling the space: bread (high mass and volume); empty ice-cream cartons (low mass, high volume); and crumpled newspaper (low mass, low volume). The only thing they have in common is they impede air circulation (of which more later).

Some people say that by keeping the freezer full, you reduce the amount of chilled air that can spill out. Maybe, but door openings account for only 1 - 2% of annual running costs so the effect is small... In fact one kilowatt-hour of electricity would rechill all the air in a 100-litre freezer about a thousand times.

Much more important in causing high running costs are the following:
Having damaged door seals
Allowing the condenser coil on the back to get dirty
Obstructing air flow over the condenser coil
Not cooling produce before putting it in
Allowing ice to build up inside
Siting the freezer in a warm place
Freezing stuff that then gets out of date
Opening the door too frequently
Keeping the door open too long
This last one is the killer: that's exactly what happens if you keep the freezer full; you need to keep rummaging around to find what you are looking for. But there is an even more compelling technical reason why efficiency falls and running-costs rise if the freezer is chock-full. In a full freezer, air cannot circulate properly, which impedes the thermostat's operation and causes inefficient operation because the refigeration compressor runs on after it should have stopped cooling.

This myth is almost universal and is promulgated by organisations that should know better. So where did it come from? It probably started with the perfectly true observation that a larger freezer uses more power, so it is unwise to buy one that is bigger than you need. Related to this is the idea that the running costs per pound stored are lower for a freezer that is fuller; but this "operational" efficiency has then been confused with thermodynamic efficiency, which is affected by a lot of things, but not by the loading.

Conclusion: store as much or as little as you need; but leave room for air to circulate.